If you're asking, "Why were people booing Ted Cruz," here's your answer:
After managing to talk mostly about himself, while ignoring the guy who won the nomination, Ted Cruz's 2016 Republican Convention speech ended on a dramatic note. Exhorting delegates to "vote your conscience" and ending his speech without endorsing Donald Trump, Ted Cruz left the stage to loud boos – and a few cheers.
WATCH: THE MOMENT THE CROWD CALLS ON CRUZ TO ENDORSE TRUMP:
Trump didn't let Cruz finish his speech before walking into the convention crowd – a clear effort to draw attention away from Cruz's snub.
"In a dramatic development, as Cruz wrapped up his speech, Trump suddenly appeared in the Quicken Loans Arena in Cleveland. He walked to join his family in a VIP area and flashed a thumbs-up — a gesture that transmitted clear anger at the Texas senator's behavior."
Why didn't Cruz endorse Trump?
While many in the convention hall were pissed off about Cruz's snub, consider the things that Donald Trump has done to Cruz. Trump retweeted an insulting photo of Cruz's wife Heidi. Trump also insinuated that Cruz's father was involved in the assassination of John F. Kennedy. Can you really blame Cruz for not wanting to endorse Trump?
Despite possible justifications, many Republicans are not pleased the Cruz speech:
New Jersey Governor Chris Christie called Cruz's actions "totally selfish."
Trent Franks, a Congressman from Arizona – who supported Cruz in the primary, said he was "dissapointed."
Many delegates weren't pleased either according to Bloomberg:
"That was uncalled for," said Nate Leupp, a South Carolina Trump delegate who had committed to Cruz if there was a second ballot.
Shaun Ireland, a Texas delegate for Trump, called it "a big middle finger to this entire convention."
More reaction to the Ted Cruz speech:
Wow, Ted Cruz got booed off the stage, didn't honor the pledge! I saw his speech two hours early but let him speak anyway. No big deal!

— Donald J. Trump (@realDonaldTrump) July 21, 2016
Vote your conscience. https://t.co/xahMq2sU1q

— Hillary Clinton (@HillaryClinton) July 21, 2016
Ironically, the Trump campaign gave Cruz his prime time spot, and say they knew of his speech ahead of time. Perhaps they held out hope that Cruz would endorse Trump, but that was a big risk which certainly backfired.
Cruz is looking past this election. He is hoping that Trump will get crushed and Cruz will be able to say "I told you so." If that happens, in time Cruz's convention speech could look a wise move. But if Trump wins, Cruz could be on the outs for a long time.
Clearly, the Republican Party remains deeply divided. With the first three days of their convention mired in controversy, the Republicans can't be happy with how things are going. But I bet other people are feeling just fine.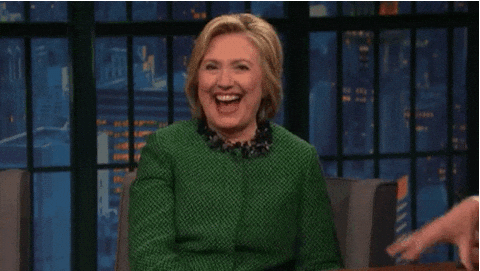 *Image courtesy of Giphy