Police are treating incident as a Terrorist Attack.
4 dead, 20 injured.
A horrible incident has taken place in the area of the UK Parliament. There are reports of gunfire, and numerous severely injured people were seen on the ground.
Reports are that an assailant mowed down pedestrians on Westminster Bridge, before scaling the fence around Parliament, firing shots, stabbing a police officer, and then being shot by police.
Eyewitnesses are saying there were at least 10 injured people on the bridge, some of them bleeding severely.
European officials are saying the attacker may have been "inspired" by ISIS propaganda.
This is the one year anniversary of the Islamist terror attack on Brussels.
The attack also fits the pattern of previous ISIS-style attacks, similar to vehicle attacks that in France, Germany, and even the US.
Today is Prime Minister's Question Time at the UK Parliament meaning the top government and opposition officials would have been in Parliament. UK Prime Minister Theresa May is believed to be safe.
The London Ambulance Service has declared the attack a "Major Incident."
A map showing the location of the attack is below. (Source – Reuters)
Police have released a statement:
Videos of UK Parliament Attack Aftermath
Former Polish foreign minister films scene after car strikes and injures pedestrians in Westminsterhttps://t.co/FwKsncYH4m pic.twitter.com/aIDxD1w0tm

— BBC News (UK) (@BBCNews) March 22, 2017
#WATCH Shooting outside UK Parliament. (rescue visuals from Westminster Bridge) pic.twitter.com/fCVCBudxm1

— ANI (@ANI_news) March 22, 2017
LIVE: British police say they are treating incident near parliament as 'terrorist' incident until know otherwise. https://t.co/08azwmRtbk pic.twitter.com/xGJJkfew76

— Reuters Top News (@Reuters) March 22, 2017
Commons leader David Lidington's statement to the Commons on security incident at Parliament pic.twitter.com/ltSFoFYLEq

— BBC Parliament (@BBCParliament) March 22, 2017
At the minute reports of a shooting and stabbing outside Parliament, between 5 & 10 people ploughed down by a car on Westminster Bridge @LBC pic.twitter.com/y9EvAnrzLx

— Rachael Venables (@rachaelvenables) March 22, 2017
Photos of UK Parliament Attack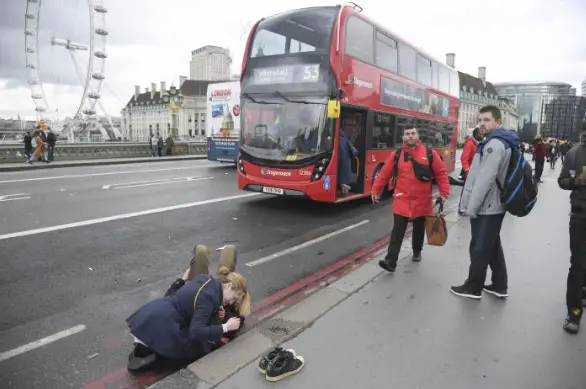 https://twitter.com/Yourreadingnews/status/844581606283235329
#BREAKING: 'Two men shot by cops' outside parliament after 'car mowed down pedestrians'; 12 people injured pic.twitter.com/V1yFjlt8SQ

— Amichai Stein (@AmichaiStein1) March 22, 2017
Gunshots , two people shot , explosion outside Parliament. pic.twitter.com/y0aVVN3lJU

— Molly (@Ouch1953) March 22, 2017
The police continue to maintain a perimeter around the area, and the investigation is ongoing. Police have not yet released the name of the attacker or attackers.
Spencer Fernando
Photo – Twitter