"We are kept in the dark, and don't know what's happening."
When the previous federal government brought in the First Nations Financial Transparency Act, it was heavily criticized by many politicians – including the Trudeau Liberals. It was also criticized by many First Nations Chiefs.
However, one voice that was often left out was the voice of people on the many First Nations across Canada, many of whom live in poverty even as Chiefs and federal politicians rack up big paydays.
After taking power, the Trudeau government weakened the Act, removing financial penalties for First Nations that didn't provide full financial info.
Unfortunately, this has done nothing to help the many people who continue to live on communities that are often in third-world conditions, even as their "leaders" make a yearly salary that is well-above the national average. Because, without transparency, there is no way for community members to be sure that resources are actually going where they should.
Travis Gladue seeks more transparency at Bigstone Cree Nation
I recently spoke about this with Travis Gladue from Bigstone Cree Nation in Northern Alberta.
Gladue is a former Serviceman with the Canadian Forces, and has members of his immediate family living in Bigstone Cree Nation. He is the head of the Bigstone Empowerment Society, which features 800 members both on and off reserve advocating for transparency and accountability from the Chief & Council.
Gladue discussed the concerns that he and some community members have regarding transparency.
He says that in November of 2016, he sent a letter to Chief & Council asking for invoices and access to info on all Band-Owned businesses.
He did not get the requested info.
Gladue says it had been found that there are companies owned by the band in which the Chief & Council are on the Board of Directors, yet those companies are not listed on the Bigstone Cree Nation website under "businesses & entities," and details of the companies are not being made available to the community.
"Chief and Council have not been forthcoming about being on the boards," says Gladue.
Gladue also pointed out documents that show the Alberta Lottery Fund provides funding to Bigstone Cree Nation, but says the info on how those grants were allocated isn't available to the community either.
He also noted that "Bigstone Cree Nation owns Bigstone Health Holdings which is a part of our Health Division, and there are current negotiations taking place with Bigstone Health Holdings and 1st Canadian Medical Supply."
However, he says "We as members don't know the details of this agreement or how much is the potential buy out."
Community members want to know where the money is going
In a letter Gladue sent to Minister Jane Phillipot he noted that "We have uncovered businesses owned by the band that has not been shared to members as well. Furthermore with this lack of transparency we will be advocating for an forensic audit to be conducted on Bigstone Cree Nation Entities for 2018."
He also said, "Myself and fellow members have requesting access to financial records pertaining to all the Nations Owned Entities since 2015 by financial request letter."
Gladue says that he met with Indian & Northern Affairs Canada, and went to Minister Bennett – who moved the issue to the Investigation Division.
However, Gladue says the issue is still up in the air, hasn't been resolved, and nobody knows where it currently stands (except the federal government).
Forensic audit requested
To be clear, there is no documented evidence of wrong-doing by the Chief & Council. That said, Gladue points out that the people of Bigstone Cree Nation have not been given access to financial statements, and unless the books are opened or there is a forensic audit, it can't be determined what is really going on.
So, the members of Bigstone Cree Nation are definitely right to want a forensic audit.
As you can see below, some of the housing in the community is in terrible condition: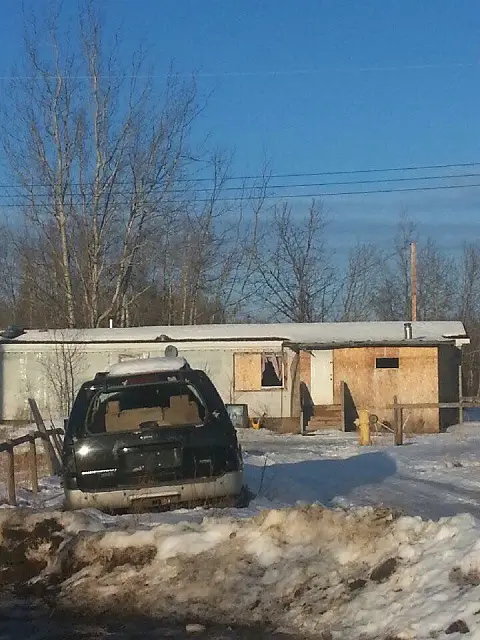 Without having a clear sense of where money from Band-Owned businesses and other revenue is going, it's fair for people in the community to wonder why housing is in such rough condition.
As Gladue said, many people feel "We are kept in the dark, and don't know what's happening."
In fact, Gladue noted that while the community is supposed to have four community meetings, they only had their first meeting on October 17, 2017, and the Chief didn't even attend.
Trudeau government "gutting the Transparency Act"
This brings us back to the point I made at the outset.
While federal politicians and some Chiefs may have opposed the First Nations Financial Transparency Act, it was a way to ensure that community members on Reserves knew exactly where the money is going.
As Gladue pointed out in our conversation, the federal government is "gutting the Transparency Act," and nobody knows what it will be replaced with.
This is the downside of the Trudeau government playing political games. They certainly won political support by promising to weaken the Act, but it seems the consequence is damaging to First Nations communities.
All Canadians – regardless of where they live in our country – have the right to know what our leaders are doing with the money created by taxpayers and community members. If leaders aren't prepared to provide that info to those they serve, it's common sense that doubts would start to arise as to who those leaders are really working for.
Spencer Fernando
Photos – provided by Travis Gladue