While the C-Train is powered by wind, Calgary buses are powered by Diesel, making McKenna's claim fake news.
Environment Minister Catherine McKenna tried spreading some fake news from her ministerial Twitter account.
Here's the tweet in question:
https://twitter.com/ec_minister/status/984555550326296581
A photo of the Tweet is also included in case McKenna deletes it: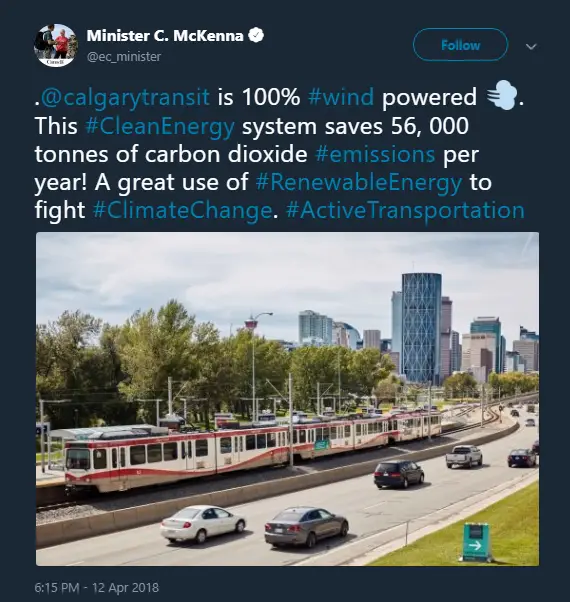 Here's why McKenna's Tweet is fake news, courtesy of the Calgary Transit website:
"Our buses are clean-burning, use premium quality low sulphur diesel fuel and have maintenance performed on them regularly."
So, the claim that Calgary Transit is 100% wind powered is simply incorrect.
McKenna would have been correct if she limited her Tweet to the Calgary CTrain. As noted by Calgary Transit, "A three-car CTrain can carry over 600 passengers, equal to 545 private vehicle trips. And the great thing about your CTrain is it's powered by wind. This initiative made Calgary the first wind-powered public transit system in North America and reduced CO2 emissions by over 56,000 tonnes in 2012."
It would have been truthful to say that part of Calgary's transit system is wind-powered, and to say that there was a large emissions reduction in the year 2012 from the wind powered CTrain.
But that's not what McKenna Tweeted from her official account
She said Calgary's Transit system was 100% wind powered. That's fake news, and it's yet another shameful attempt by the Trudeau government to deceive Canadians.
Spencer Fernando
Photo – Twitter
*****
SpencerFernando.com will never have a paywall, and I will never charge for content.
If you would like to voluntarily support my journalism, there are two ways you can contribute:
 Donation through PayPal: