Trudeau never gets angry talking about terrorism or regimes that oppose everything that Canada stands for, yet when he's attacking Canadians who happen to disagree with him, he often becomes enraged.
One of the more disturbing patterns that has emerged during Trudeau's time as PM is the way he directs his anger.
While all leaders get angry, their angry is usually directed mostly towards enemies of the country, such as terrorists, or regimes that wish harm to Canada.
The photo below is from a recent debate in the House of Commons about Hamas. Try to guess who Trudeau was talking about based on the rage-filled expression on his face: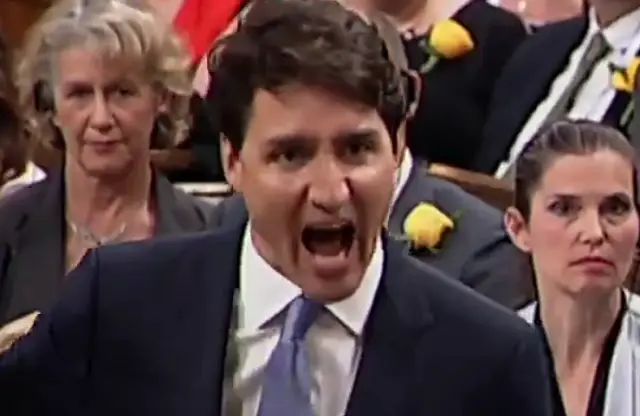 Trudeau wasn't attacking Hamas here, despite the fact that Hamas uses women and children as human shields and purposely instigates deadly violence to score propaganda wins.
No, in that photo Trudeau was attacking the Conservatives.
The rage filled expression is what we often see from Trudeau when he attacks people who disagree with him, and it's the true heart of the federal government underneath the "Sunny Ways" facade.
It is very disturbing that Justin Trudeau never looks this angry when he's talking about terrorists who want to destroy our way of life. In fact, he generally either shows no emotion during those discussions, or 'pivots' towards attacking those who want tougher action against terrorism.
Rather than trying to bring people together, Trudeau is trying to drive Canadians apart. His rage shows that he sees the millions of Canadians who support the Conservatives as his enemies, rather than as good people who happen to view things differently than he does.
Canada deserves better than that.
Spencer Fernando
Photo – Twitter
***
If you would like to support Spencer Fernando, you can make a donation through PayPal by clicking the button below