If the Bank of Canada becomes political, Canada could follow the path of other nations that have decimated their own economies with out of control spending and money printing.
Conservative Finance Critic Pierre Poilievre is making it clear that the Bank of Canada is making a mistake by propping up Trudeau's massive spending plans, warning that the Bank is becoming an 'ATM for Trudeau.'
What the Bank of Canada is doing is enabling reckless policy, by ensuring that no matter how much Trudeau spends, the pain of inflation remains suppressed.
This eliminates the clear warning signal that rising interest rates provide when debt levels surge, giving people the impression that endless spending increases are 'harmless.'
To get a sense of how much money the Bank of Canada is creating out of thin air, consider the chart below from Bloomberg: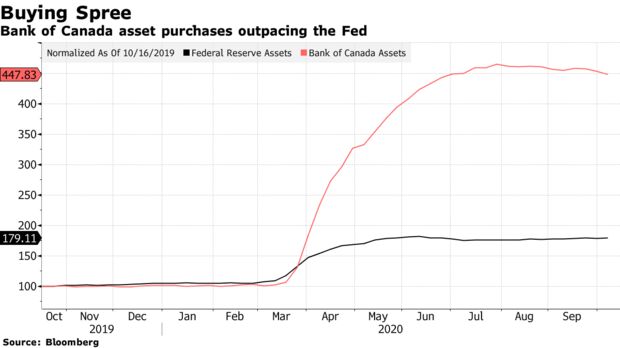 As a percentage of GDP, the Bank of Canada is buying up debt at a far higher rate than the US Federal Reserve, even though the Federal Reserve is one of the most active central banks in the world.
Further, Canada's combined federal and provincial budget deficits are a whopping 20% of GDP. As a Bloomberg article said, "That represents the fourth highest projected deficit in the world, after Libya, Aruba and the Maldives."
If the Bank of Canada continues to finance this debt without limit, at some point confidence will collapse, and even Bank of Canada action won't be able to stem the consequences.
Also, if the Bank of Canada becomes a political instrument, Canada could follow the path seen in other countries – including many Latin American nations – where money printing was co-opted to facilitate political agendas, leading to disaster for those countries.
That's why these warnings by the Conservatives are important. Canada needs to make sure we don't head down a dangerous and unsustainable path.
Spencer Fernando
***
The Corrupt Establishment Media is propping up the Liberals. Only Independent Media can fight back. If you want to SUPPORT Spencer Fernando, you can Donate through Paypal at the button below:

[widget id="top-posts-5"]