It would seem only certain tragedies are exploited.
Is there a hierarchy of victimhood in Canada?
Are all lives seen as inherently valued?
The answers to those questions lead to another question:
Why do our politicians claim that some tragedies are moments for 'nationwide reflection' and 'change,' while others pass away into the news cycle and disappear?
What is the difference between those events that are exploited by politicians, and those that are dismissed or downplayed?
Consider how – in the wake of the terrible events in London, Ontario, politicians across the political spectrum (especially the NDP & Liberals), acted as if this was somehow something all Canadians were responsible for, rather than the horrible actions of one individual.
We were called to 'reflect' on the 'role we all played' in creating an 'environment' that led to such a horrific act, and governments moved swiftly to hold conferences, summits, and enact new legislation in 'response' to what took place.
Yet, as crime continues to surge – particularly violent gang crime in many of Canada's cities – somehow the near-daily string of tragedies, shootings, and deaths doesn't seem to elicit that same desperate response from those in power.
Consider what took place recently in Toronto, where – on June 19th – four people were shot, including three children.
A one-year-old boy, a five-year-old girl, and an 11-year-old boy were shot, while a 24-year-old man who was also shot is now facing various charges according to a CP24 report:
"Demar Cadogan of Toronto has been charged with discharge firearm with intent, possess restricted or prohibited firearm without holding a licence and registration certificate, possess loaded regulated firearm, and possess firearm while prohibited.

Police have said they are searching for multiple suspects in connection with the case and the investigation remains ongoing.

Investigators also said Monday that the five year-old girl remains in critical condition in the hospital. The two boys have been treated and released from hospital.

Speaking with CP24 Saturday, police called the shooting "horrific" and said shots appear to have been fired into the crowd indiscriminately."
Will this lead to a national summit on crime in urban areas?
A national 'conversation' and 'reflection' on gang crime?
Shootings surge under Liberals
According to data provided by the Toronto Police, shootings have surged in recent years.
And when that data is divided between the Harper government years and the Trudeau government years, the trend is unmistakable:
"Taking stats directly from the @TPSOperations site dashboard, have a look at how shootings have increased under the @liberal_party's #SoftOnCrime approach vs previous years under the @CPC_HQ
Source: https://data.torontopolice.on.ca/pages/shootings

Is this what Canadians want? #ItsNotLegalGunOwners"
https://twitter.com/TWilsonOttawa/status/1407480075214372866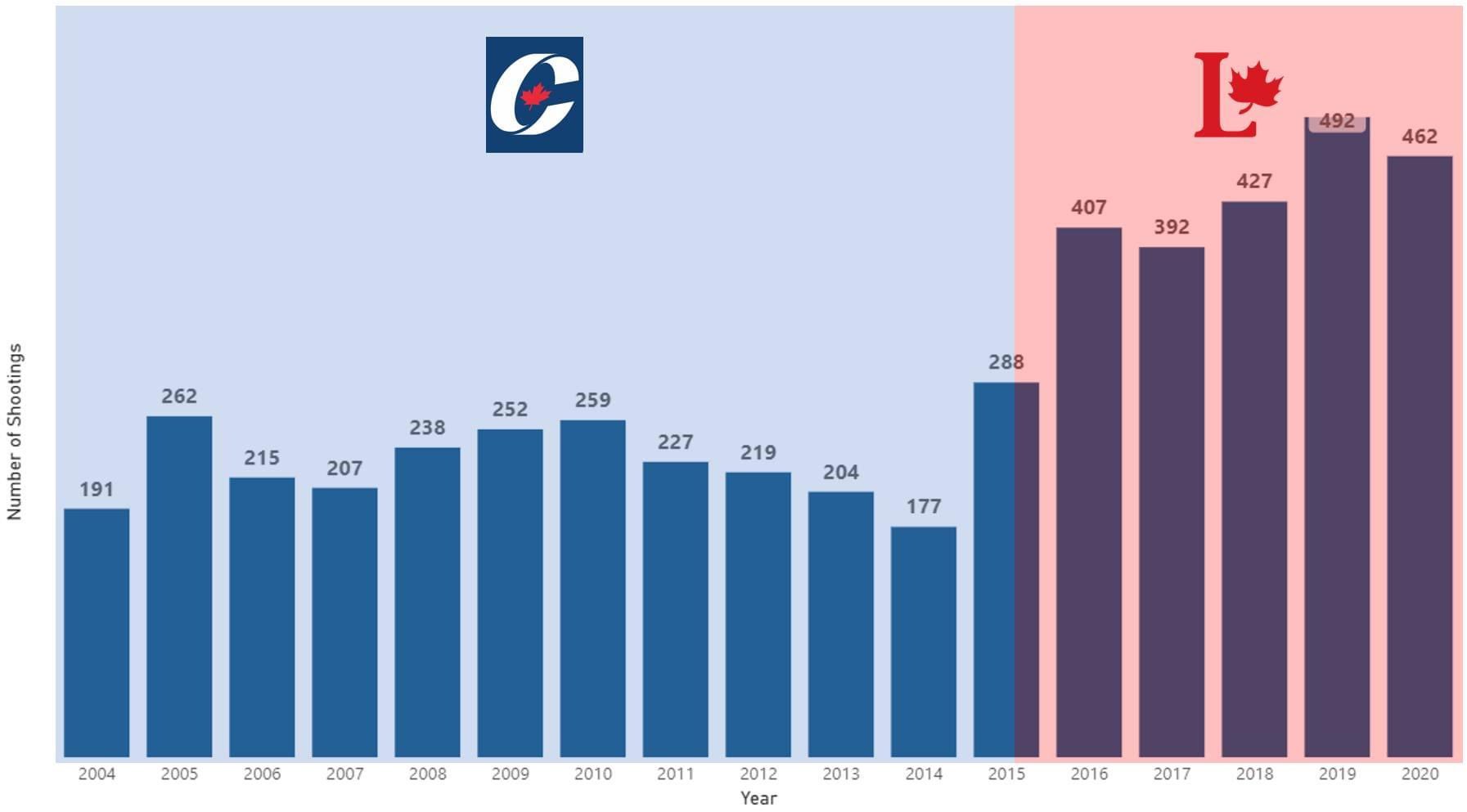 Wilson is 100% correct here.
It's not legal gun owners committing these crimes, it's criminals.
Indeed, in their second arrest in connection to the Toronto shooting that injured three children, police
"James Ramer, interim police chief, told reporters on Tuesday that police have arrested Kevin George, 21, of Toronto. 

George has been charged with four counts of aggravated assault, four counts of discharging a firearm with intent to endanger life, possession of a loaded firearm, occupying a motor vehicle with a firearm, possession of a firearm while prohibited and one count of failure to comply with recognizance.

Ramer said police have determined that two men at the outdoor party got into an argument and began shooting at each other. He alleged that the two men were the "initial shooters" at the party, but that other people also opened fire."
The response to this of course won't be a surge in funding for police.
Nor will it be a crackdown on gangs.
Nor will it be far tougher prison sentences.
Nor will it be stronger border control measures to stop illegal guns from entering the country.
No.
Instead, to the extent that politicians even address the shootings in Toronto, it will be to try and place the blame on law abiding gun owners, and bring in legislation that ends up mostly restricting the rights of law-abiding gun owners in Rural Canada, far away from where the actual surge in shootings are taking place.
And, it goes without saying that there won't be any 'national reflection' on why Toronto shootings are up under the soft-on-crime naïve policies of the Trudeau government.
In short, this won't be exploited, nor will it even be addressed in any real way.
Hierarchy of victimhood
What this reveals is that there is a clear hierarchy of victimhood in Canada.
And that hierarchy places easily exploitable tragedies at the top, and politically 'inconvenient' tragedies at the bottom.
The killing of a family in London, Ontario was clearly tragic, and was a horrendous crime. Unfortunately, the Liberal government is exploiting that to try and push new legislation, with Attorney General David Lametti mentioning it as he pushes Bill C-36, dangerous legislation that would give the government even further ability to narrow the bounds of speech and impose a chilling effect and state control the likes of which we would expect to see in Communist States, not a supposedly 'free and democratic' nation.
Further, note how quickly the politicians moved following those horrendous events to impose an agenda.
Will they move with even a fraction of the speed to take rational steps to protect the innocent victims of gang violence in Toronto?
Are those victims not worth as much attention or political effort?
Targeting Conservatives
We also know that the political establishment loves to target conservatives, and utilizes emotional reactions to tragic events in order to do so.
Hard-working, law-abiding Conservative Canadians are obviously not the source of gun crime, terrorism, or gang violence.
Yet, that is where the Liberals and the broader political establishment turn their attention no matter what. Conservative Canadians – especially Conservative Canadians in rural parts of Canada – are seen as the 'easiest' political target for demonization, since rural Conservatives tend not to vote Liberal, and since much of the political establishment (even the CPC at times) ignores them and/or dismisses their views.
This biased double-standard is further splitting our nation, and makes it far tougher for us to actually solve problems and improve things, since we are focused on the wrong areas.
That's why we need to call it out and push back against the hypocritical and emotionally-manipulative political class that seems so hell-bent on weakening and dividing our nation.
Spencer Fernando
Photo – YouTube
***
If you value my Independent Canadian perspective, you can make a contribution through PayPal, or directly through Stripe. Your support is deeply appreciated.

---