The more we look, the worse it gets.
In late April, I wrote about how the Liberal government's imposition of the Emergencies Act continues to look worse and worse:
"When you have the truth on your side, you don't need to keep coming up with a bunch of new and easily-discredited 'justifications' for your actions.

Unfortunately for the Trudeau government, the truth is against them.

Hence, they flail around attempting to explain why they were so eager to take away the rights and freedoms of Canadians and use authoritarian state power to try and quash dissent."
And now, with recent comments from RCMP commissioner Brenda Lucki, another Liberal excuse for using the Emergencies Act has been revealed as false.
First, Lucki explained that the RCMP cleared border blockades without using the Act:
"'Extraordinary powers granted to police under the Emergencies Act weren't used to clear protest blockades at Canada's border crossings,' RCMP Commissioner Brenda Lucki said Tuesday.

Lucki testified virtually at a House of Commons committee made up of members of Parliament and senators tasked with studying how the Emergencies Act powers were used.

"'In RCMP jurisdiction, we successfully used a measured approach and existing legislation to resolve border blockades,'" Lucki told the committee."
Then, Lucki – while claiming the Act was used to force tow truck drivers to remove trucks – said the RCMP didn't ask for it:
"Lucki told MPs that the RCMP didn't directly request the act, but she said the RCMP was in discussions in the week before the act was invoked. She said in a variety of meetings the idea was raised, but it was the government's decision to use it.

"We were the ones who would be using those authorities so we were consulted to see if they would be of any use to police," she said."
Unsurprisingly, Lucki still praised the powers the Act granted to law enforcement:
"The measures enacted under the emergencies act provided all police officers across the country, not just the RCMP, with the ability to deal with blockades and unlawful public assemblies," she told MPs"
We would expect the head of the RCMP to be happy about getting more authority, and she would likely be out of a job if she went too far in criticizing the Trudeau government.
With that in mind, the real story here is Lucki admitting the RCMP didn't ask for the Act to be imposed.
This contradicts what public safety minister Marco Mendicino has previously said:
.@Safety_Canada Minister @marcomendicino April, 26. Minister's Story Contradicted: https://t.co/oDtf4w4EQW #cdnpoli #EmergenciesAct #RCMP #FreedomConvoy pic.twitter.com/ibhu8HnCqZ

— Holly Doan (@hollyanndoan) May 11, 2022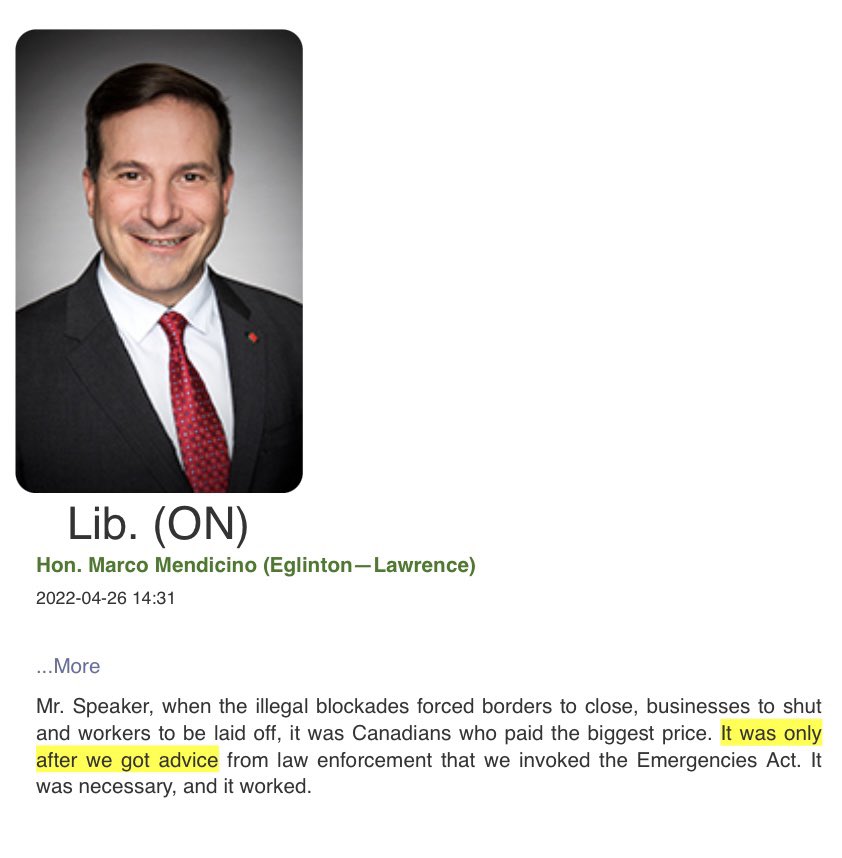 This isn't the first time Mendicino has struggled with honesty, as he previously repeated the false claim that Freedom Convoy participants were involved in arson:
.@GlenMotz calls out @marcomendicino for attempting to mislead a parliamentary committee by spreading fake news! #cdnpoli #EmergenciesAct pic.twitter.com/2yYAyLtY8r

— Sarah Fischer (@SarahFischer__) April 26, 2022
Emergencies Act based upon Liberal Lies
The foundation upon which the Liberals imposed the Emergencies Act is revealed to have been built and maintained with lies.
When the federal government uses lies to take away our rights and freedoms, all Canadians – regardless of which party we support – should be deeply disturbed, as it goes against everything our country is supposed to stand for.
Spencer Fernando
Photo – Twitter
***
I am funded by people like you, not the Liberal government. If you value my work, you can make a contribution through PayPal, or directly through Stripe below.

---
[widget id="top-posts-5"]