Future downgrades are likely, as even the woefully incompetent Bank of Canada cannot ignore the dire state of the Canadian economy.
While the Bank of Canada made big headlines for their 100 basis point interest rate hike – the biggest since 1998 – they also downgraded Canada's GDP growth projections.
Previously, the Bank of Canada had predicted Canada's GDP to grow by 4.25% in 2022, and 3.25% in 2023.
Now, they predict growth of 3.5% and 1.75% in 2022 and 2023 respectively.
What is a Bank of Canada prediction worth?
If you look at the chart below, you can see how pathetically wrong the Bank of Canada has been when it comes to predicting inflation.
Here's Bank of Canada's record on estimating inflation. $CAD pic.twitter.com/hjHzSWgbBx

— IceCap (@IceCapGlobal) July 13, 2022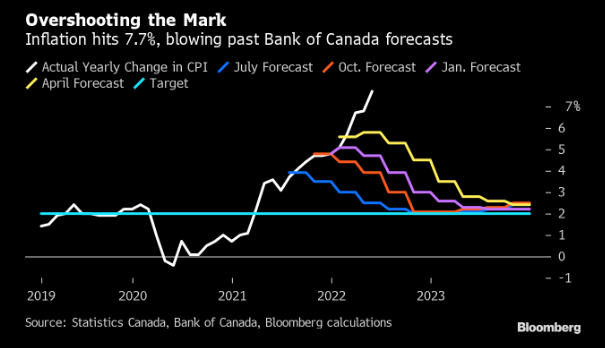 So, while the Bank of Canada's predictions of lower GDP growth should be taken with a grain of salt, the direction of the prediction is instructive.
It is undeniable that our economy is getting worse, so if the Bank of Canada is predicting lower GDP growth, there is good reason to believe that is what will take place. Where they will likely be wrong is in continuing to predict growth at all.
59% of Canadians already believe Canada is in a recession, and predictions of an official recession continue to grow.
Just as they have been late and wrong on every inflation prediction in recent times, the Bank of Canada is likely far behind when it comes to predicting when a recession will take place.
Political influence
We also must remember that the Bank of Canada spent many years enabling Justin Trudeau's agenda.
The Liberals will be desperate to distract and hide from their horrendous economic performance, and are likely to keep pumping more and more money – borrowed of course – into the economy to generate false and unsustainable 'growth.'
The Bank of Canada will then be faced with the choice of whether to acquiesce to that agenda, or whether to keep raising interest rates.
What they decide will determine whether they start winning back some trust, or whether the BoC continues to be viewed as a politically-compromised extension of the Liberal government.
Spencer Fernando
***
If you want to help stand up against the co-opted establishment media, you can make a contribution to support my work through PayPal, or directly through Stripe below.

---
[widget id="top-posts-5"]