The hunting rifle ban has been staved off for now.
The Liberal government has backed off their amendments to Bill C-21.
The amendments would have banned a significant number of firearms used by Canadian hunters and farmers, and had generated a significant backlash.
Now, the Liberals have withdrawn those amendments:
HAPPENING NOW: The Trudeau Liberals are withdrawing their G4 and G46 amendments to Bill C-21. These are the amendments to add hundreds of hunting guns to the banned list. Moved faced broad based opposition. pic.twitter.com/KZ5PArcEmA

— Brian Lilley (@brianlilley) February 3, 2023
Public Safety Minister Marco Mendicino – who has repeatedly tried to deceive Canadians about the legislation and the amendments – also issued a statement:
Canadians deserve to be safe in their communities.

We will work with our parliamentary colleagues to craft new, a clear solution that will keep assault-style weapons off our streets.

Everyone expects their leaders to work together to address gun violence.

Statement 👇 pic.twitter.com/hAt5Kmtwld

— Marco Mendicino (@marcomendicino) February 3, 2023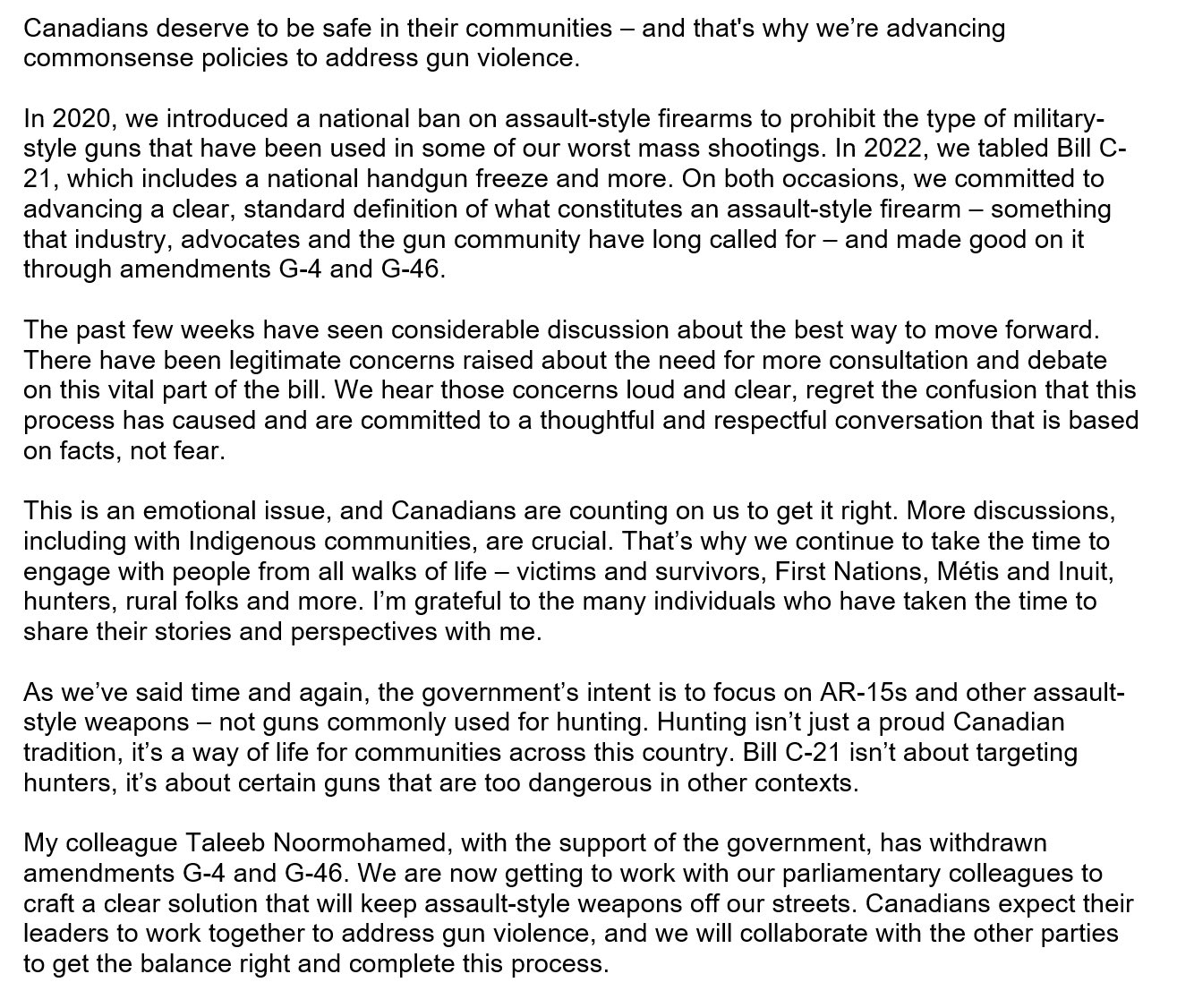 What happened to all that "misinformation"?
The Liberals had repeatedly claimed that referring to the amendments as a "hunting rifle ban" was "misinformation."
They attacked CPC Leader Pierre Poilievre and other MPs who raised concerns and tried to claim they were just making things up.
But then, some Liberal MPs started to express criticism of the amendments, and a growing number of Indigenous Canadians started to speak out against it as well.
This clashed with the narrative the Liberals were trying to create, as they could no longer pretend that only Conservative partisans were opposed to the amendments.
Conservative pressure
The Liberal climb-down is a vindication of organizations like the CCFR and of Canadian independent media, who helped to build public opposition to the amendments and explain why they were so counter-productive.
The Conservatives have also been vindicated.
Pierre Poilievre's move to have the CPC strongly oppose the Liberal amendments, and Public Safety Critic Raquel Dancho's effective communication on the issue helped to galvanize those who wanted the amendments stopped.
It is also an important lesson going forward, as strong and sustained opposition to Liberal moves can get results.
As much as Justin Trudeau clearly has disdain for Canadians who disagree with him, there are a significant number of Liberal MPs who want to be accountable to their constituents, and they can be persuaded in some instances.
Of course, this is just the beginning.
The Liberals will almost certainly attempt to pass similar amendments when attention turns elsewhere, and their fundamentally flawed approach of focusing on law-abiding gun owners instead of gangs and other criminals hasn't changed.
So, we will have to remain vigilant.
Spencer Fernando
Photo – Twitter
***
 I am supported by voluntary contributions from Canadians, not the government. If you value my writing, you can contribute through PayPal or directly through Stripe below.
---
PAYPAL

---
[widget id="top-posts-5"]