The issue could be resolved if Justin Trudeau releases the transcript the government admits to having. So why hasn't the government done so?
Former Liberal MP Han Dong has announced he is taking legal action against Global News. Dong has denied the allegations made against him in a recent Global News story, which alleged he encouraged China's Consul General to delay the release of the two Michaels in order to benefit the Liberals politically. You can read Dong's full statement below: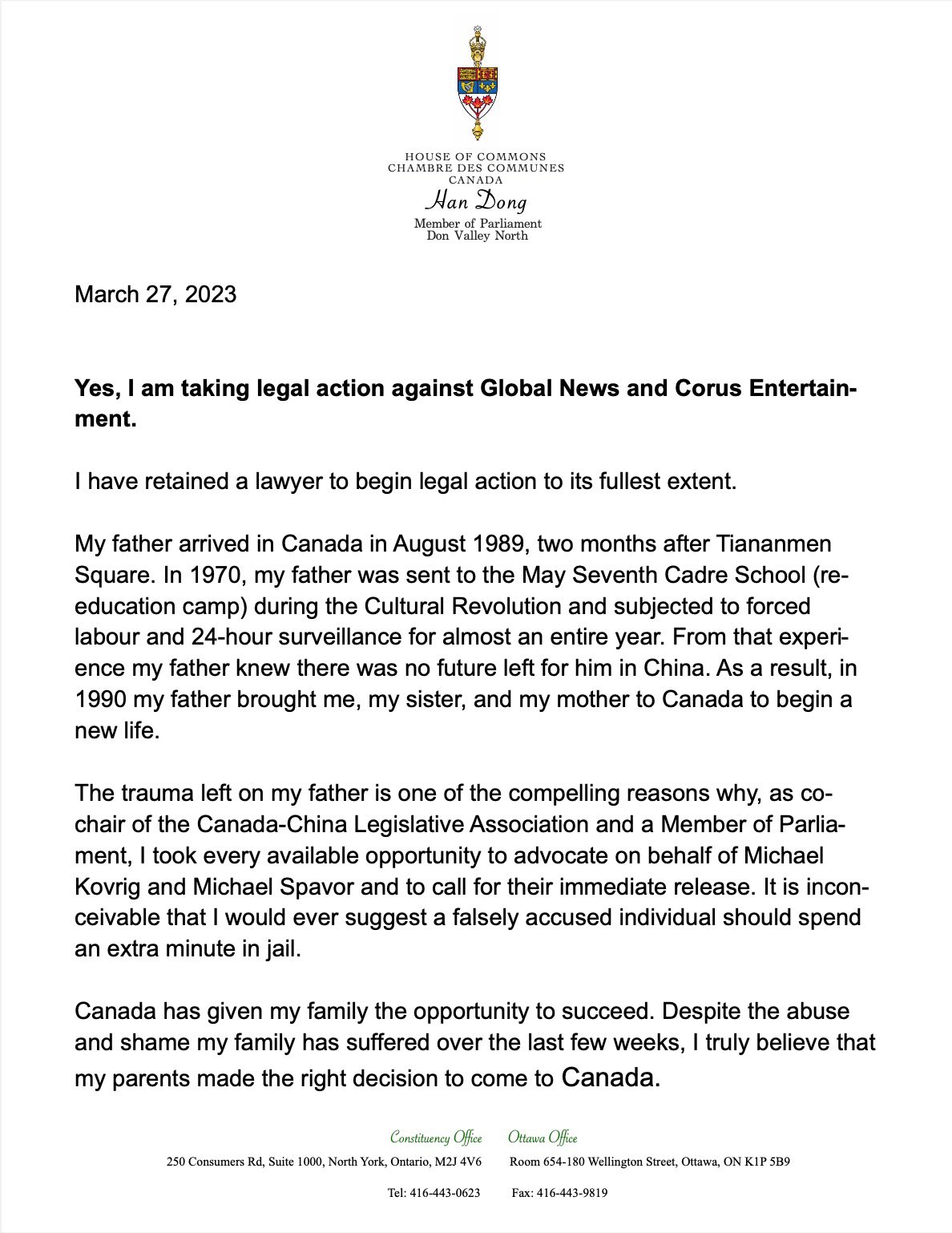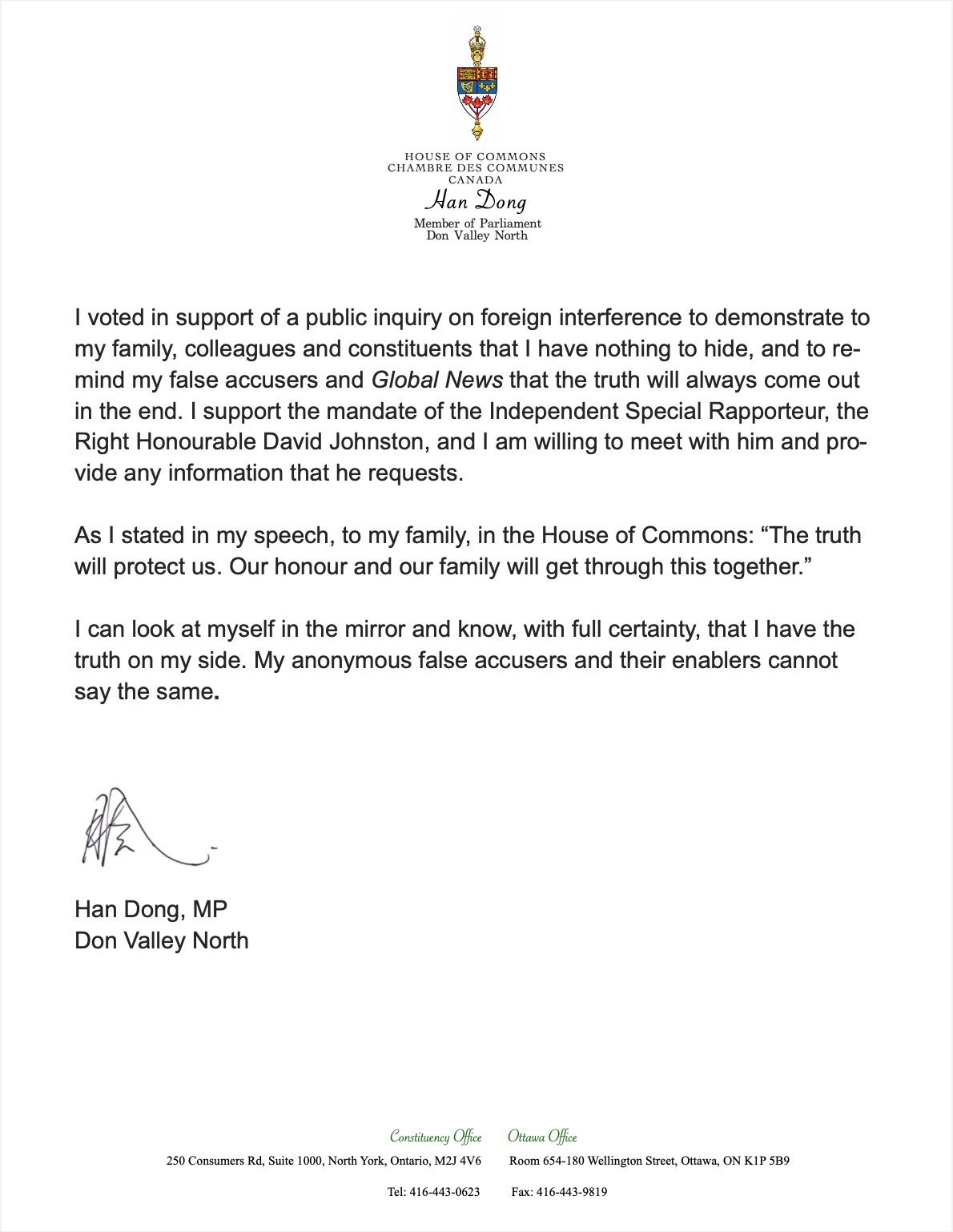 Why has Trudeau refused to release the transcript?
Dong is certainly entitled to the presumption of innocence, and the allegations against him are as yet unproven. With that in mind, many are now wondering why Justin Trudeau is refusing to release the transcript of Dong's discussion with the Chinese Consul General.
Remember, the Liberals were caught lying about the story, with the government claiming they only heard about it through news reports, before later admitting they had a transcript of the conversation all along:
"When the Han Dong story first broke, the Liberal government claimed they only heard about the allegations (allegations Dong denies), when asked by the media in response to the story:
"In an emailed statement, The Prime Minister's Office said it "only became aware that a conversation took place after Mr. Dong told us, following recent media questions."

In addition, PMO spokeswoman Alison Murphy suggested that the MP was not acting at the behest of his government. "At no time was Mr. Dong ever used as a 'back channel," she wrote in the statement."
Here's the thing, it turns out the Liberal government actually already had – and thus still has – a transcript of the call, as reported by the Globe & Mail:
"The Trudeau government determined that there was no "actionable evidence" after it received a CSIS transcript of an early 2021 conversation between Liberal MP Han Dong and China's top diplomat in Toronto, according to a senior government source – saying conclusions could not be drawn that Mr. Dong asked Beijing to keep two Canadians in prison for political reasons."
Take a moment to think about what this means. Justin Trudeau surely knew about this transcript when he repeatedly defended Han Dong, and when he insinuated that racism was behind concerns about China's foreign interference."
Trudeau has since praised Dong's speech in which he resigned from the Liberal Caucus (Trudeau called it "strong"), while saying he respects Dong's decision to resign.
But here's the thing:
TRUDEAU HAS THE TRANSCRIPT.
He and the upper echelons of the government know what was said.
If he thinks Dong is innocent, Trudeau can easily release the transcript and prove it.
If Trudeau thinks the transcript proves otherwise, then he should make that clear as well.
As Terry Glavin noted on Twitter, the government is demanding that we trust them without sharing any information with us:
"PMO can have the transcript released. Funny thing with this govt. It always comes down to what we are admonished to *believe* instead of what we are allowed to *know*."
PMO can have the transcript released. Funny thing with this govt. It always comes down to what we are admonished to *believe* instead of what we are allowed to *know*. https://t.co/ndylm0jidS

— Terry Glavin 格立文 (@TerryGlavin) March 27, 2023
Despicable move by Trudeau
Trudeau's refusal to release the transcript is disgraceful and despicable.
Whatever the transcript says, it is deeply unfair not to release it.
If the transcript proves Dong is innocent, then Trudeau's refusal to release it leaves Dong twisting in the wind with his reputation and career at stake.
If the transcript backs up what Global's reporting says, then that is a massive scandal and is something Canadians have every right to know.
Once again, it seems Trudeau is willing to throw other people under the bus and hide information from the Canadian People in order to protect his own narrow and selfish political interests.
Spencer Fernando
***
Canadian democracy is facing unprecedent threats, and we need to speak out and stand up for our country. If you want to support my writing, you are encourage to contribute through PayPal or directly through Stripe below:
PayPal

---
---
[widget id="top-posts-5"]