If only there was some kind of inquiry – a public one perhaps – that could look into this…
In response to a bombshell Globe & Mail report alleging Bill Blair took months to sign off on surveillance of an influential Liberal Party member allegedly linked to China to China's consulate in Toronto, the Liberals are using an old tactic:
Claiming the reporting by the Globe & Mail is false.
According to the Globe & Mail story, "The long-time Liberal Party kingpin has been linked by CSIS to Chinese diplomat Zhao Wei, who was expelled from Canada last week after The Globe and Mail revealed that he had been behind plans to intimidate Conservative MP Michael Chong and family members in Hong Kong."
In early 2021, CSIS had sought a section 21 warrant in order to intercept his communication, as well as gain entry to his home. At the time, the then-upcoming federal election seems to have added urgency to those efforts.
Despite the warrant being approved by CSIS, lawyers from the Justice Department, and lawyers for CSIS, Blair waited until June of 2021 to sign off on it.
As a result, CSIS was left without much time to get their efforts underway ahead of the impending election.
As noted in the report, former CSIS director Richard Fadden says the four-month delay makes no sense:
"There is no reason why a warrant cannot be approved within a week unless the minister goes back to CSIS to explain why he requires more information," said Fadden.
The report has further deepened suspicious surrounding the Trudeau Liberal government, as they seem to have not only acquiesced to China's interference in our country but to tacitly have encouraged it through inaction.
Blair denies
Hours after the report was released, Bill Blair issued a denial: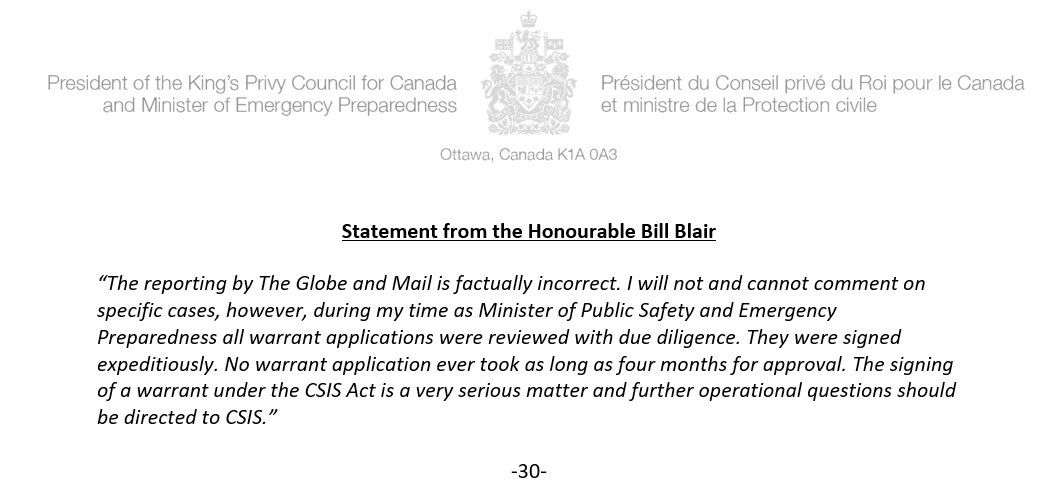 Please see my statement regarding recent reporting by The Globe and Mail. pic.twitter.com/RZANYwWcDe

— Bill Blair (@BillBlair) May 19, 2023
Few seem willing to give Blair the benefit. After all, the Liberals used the same 'the Globe & Mail's report is false' line after the Jody Wilson-Raybould SNC-Lavalin story broke, after previous allegations of China's interference in Canada broke (remember, the Liberals initially tried to dismiss all of this as 'racism'), and now with Blair.
Inquiry. Now.
Of course, there is an easy way to get to the bottom of this: A full public inquiry. By refusing to call one – and by delaying the entire process by hiding behind David Johnston – the Liberals show they are afraid of the truth being revealed. Every day that goes by, they look worse and worse.
Spencer Fernando
***
I don't take taxpayer money, and I never will. I'm funded by Canadians like you who value independent thinking. If you wish to contribute, you can make a contribution through PayPal or directly through Stripe below:
PayPal

---
---
[widget id="top-posts-5"]