The United States will gain access to four additional bases, as concern grows over China's growing military build-up and threat to Taiwan.
For many years, China has been expanding their military at a rapid pace.
According to Pentagon estimates, the People's Liberation Army Navy (PLAN), is set to grow to 400 ships by 2025:
""By 2025, the People's Liberation Army Navy is expected to grow to 400 hulls, up from its fleet of 340, according to the Pentagon's annual China military report estimates released on Tuesday.

"The PLAN is an increasingly modern and flexible force that has focused on replacing its previous generations of platforms that had limited capabilities in favor of larger, modern multi-role combatants," reads the report.

"As of 2021, the PLAN is largely composed of modern multi-role platforms featuring advanced anti-ship, anti-air, and anti-submarine weapons and sensors.""
China has also been building up their military presence on artificial islands, giving them the ability to expand their missile and air coverage in the South China Sea.
Combined with years of "Wolf Warrior Diplomacy" (AKA insulting and threatening nearly every country they dealt with), and the growing threat of a Chinese invasion of Taiwan, and it's no surprise that China's neighbors are responding.
Indonesia has announced a significant military build-up, and Japan is raising military spending by a whopping 26% this year.
Now, the Philippines is part of that trend as well.
The U.S. and the Philippines have announced an expansion of their Enhanced Defense Cooperation Agreement:
"Today, the Philippines and the United States are proud to announce their plans to accelerate the full implementation of the Enhanced Defense Cooperation Agreement (EDCA) with the agreement to designate four new Agreed Locations in strategic areas of the country and the substantial completion of the projects in the existing five Agreed Locations.

The EDCA is a key pillar of the U.S.-Philippines alliance, which supports combined training, exercises, and interoperability between our forces. Expansion of the EDCA will make our alliance stronger and more resilient, and will accelerate modernization of our combined military capabilities.

The addition of these new EDCA locations will allow more rapid support for humanitarian and climate-related disasters in the Philippines, and respond to other shared challenges.

The United States has allocated over $82 million toward infrastructure investments at the existing five sites under the EDCA, and is proud that these investments are supporting economic growth and job creation in local Philippine communities.

The United States and the Philippines have committed to move quickly in agreeing to the necessary plans and investments for the new and existing EDCA locations.

The Philippine-U.S. Alliance has stood the test of time and remains ironclad. We look forward to the opportunities these new sites will create to expand our cooperation together."
The deal will mean large numbers of U.S. military personnel returning to the Philippines after many years of a diminished presence. And, as you can see in the map below from BBC, three of the new bases are quite close to Taiwan: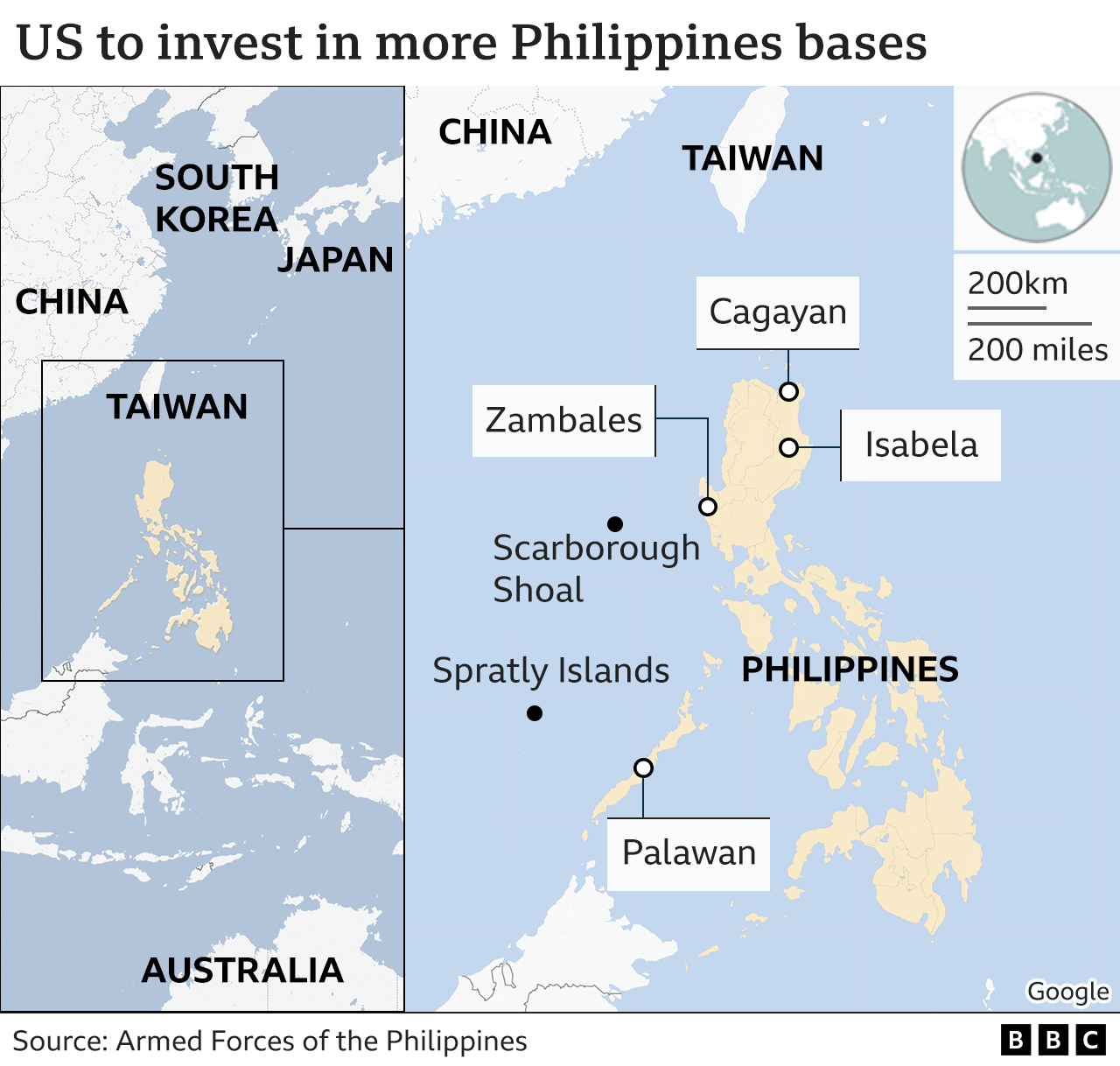 In response, China unsurprisingly criticized the move:
"Out of its selfish agenda, the US side has held up to the cold war. Regional countries should remain vigilant about this and avoid being used by the US."
Of course, similar to Russia's complaint about countries joining NATO, China ignores the fact that democratic countries would rather form a security alliance with the United States than leave their fate up to a ruthless dictatorship.
Communist China is now being sent a clear message that they will not be given free reign expand their sphere of influence, and will face a difficult environment if they attempt to destroy Taiwan's democracy.
Spencer Fernando
Photo – YouTube
[widget id="top-posts-5"]