A swift reaction from the Ford Government. Will Trudeau now remove the federal Liberal MP who was referenced in the same story?
The Ontario PC Government has reacted swiftly to a Global News report that alleged one of their MPPs was involved in China's election interference efforts in Canada – something the MPP denies.
As a refresher, here is the allegation in the Global News story:
"An election interference network directed by China's Toronto consulate allegedly involved a sitting member of the Ontario legislature, according to sources with knowledge of the investigation into Beijing's covert efforts during the 2019 federal election.

Those sources assert that Vincent Ke, a Progressive Conservative member in Premier Doug Ford's government since 2018, served as a financial intermediary in Chinese Communist Party (CCP) interference schemes described in two separate Privy Council Office intelligence reports reviewed by Global News.

According to those same sources, Ke received around $50,000, part of a larger disbursement from the Chinese Consulate in Toronto in the $250,000 range that was channelled through a series of intermediaries.

Ke has denied the allegations."
And now, less than 24 hours later, Ke is out of the Ontario PC Caucus: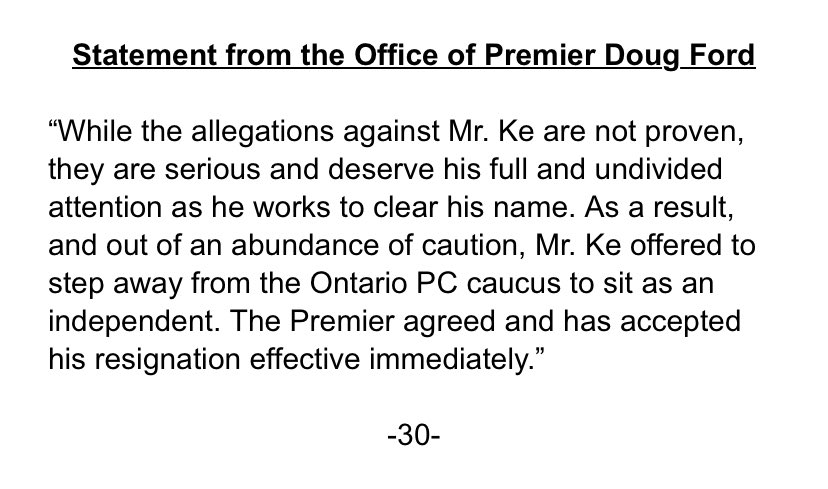 #BREAKING: Toronto MPP Vincent Ke is out of the Progressive Conservative caucus following allegations of a Beijing election interference network in a Global News report today #onpoli pic.twitter.com/CqKjUjhxqG

— Laura Stone (@l_stone) March 11, 2023
The swift reaction now puts even more pressure on Prime Minister Justin Trudeau.
Current Liberal MP Han Dong was referenced in a previous Global News story as being part of the "China foreign interference network" – which Dong denies.
"Global News reported last month that three weeks before the 2019 election, national security officials allegedly gave an urgent, classified briefing to Liberal Party officials, warning them that one of their candidates, Han Dong, was part of the 2019 Chinese foreign interference network.

A former Ontario MPP, Dong is now Don Valley North MP. He has denied allegations that he was one of the eleven or more candidates who participated in the supposed network. "I am unaware of the claims provided to you by alleged sources, which contains seriously inaccurate information," he said in a statement to Global News.

​Trudeau publicly supported Dong, and his senior ministers have maintained that the overall integrity of the 2019 and 2021 elections remained intact."
Stark contrast
If Trudeau refuses to take similar action to that of the Ontario PC Government, even more questions will be raised about why the Prime Minister seems so unwilling to take election interference seriously.
Spencer Fernando
Photo – YouTube