Canadians must say they've had enough and acknowledge that we need to get far tougher on crime.
As crime continues to surge, the same cast of 'experts' and Liberal politicians talk about how 'difficult' and 'complex' the problem is.
You'll notice that as they say this, they continue to push crime policy in only one direction, making it weaker and weaker. As they do so, they continue to claim that it's a 'difficult' and 'complex' issue, before proposing even more policies that weaken our laws further.
Here's the thing:
They are completely wrong.
This isn't actually a complex problem.
For many years – and especially since the Liberals took over, a combination of weak Liberal politicians and far-left activist judges have struck down tough punishments, pushed a narrative that criminals are just victims of 'trauma' or 'societal problems,' and skewed the system in favor of lawbreakers.
They've made it easier to access drugs, easier to get out of prison even after despicable crimes, and easier to avoid being sent to jail.
And what have been the results?
More drug use, more overdose deaths, more murders, more assaults, more overall crime, more criminals on the street, and a more dangerous society.
Here are just a few recent examples:
"Law enforcement sources say the homeless man accused in the random murder of a Toronto teen on the TTC was "out on numerous releases."

"This," a detective close to the investigation told The Toronto Sun, "is a full-on justice system failure."

According to cops, around 9 p.m. Saturday at Keele TTC station, Gabriel Magalhaes, 16, was sitting on a bench in the west-end station when he was stabbed in an "unprovoked" attack.

The teenager was taken to hospital with life-threatening injuries and later died there. Dead at 16.

The suspect — identified as Jordan O'Brien-Tolbin, 22, of no fixed address — faces a charge of first-degree murder.

"He's currently out on numerous releases," the police source said. "Probation, prohibited, bail … name it, he's been released on it."

Now, O'Brien-Tolbin has hit the big time, although none of the charges have been proven in court."
One person has been charged with murder after a stabbing at a Vancouver Starbucks Sunday.
"Vancouver police say the stabbing happened around 5:40 p.m. outside the coffee shop, located in the area of West Pender and Granville streets, after a "brief altercation" between two men.

Despite officers administering first aid, the victim, identified as 37-year-old Paul Stanley Schmidt, died after they were rushed to the hospital.

"We believe this homicide was witnessed by dozens of bystanders, and there may be people with information who have not yet come forward," said Sgt. Steve Addison.

"We particularly want to hear from anyone who was present in the moments before the stabbing, or anyone who has cell-phone video of the incident."

Police say a suspect, 32-year-old Inderdeep Singh Gosal, was arrested at the scene after bystanders flagged down a Vancouver Police Department (VPD) constable in the area."
And for those who would dismiss these as isolated incidents, the fact is that violence in Canada is increasing – as even Stats Canada admits:
In 2021, police services from across Canada reported 788 homicides, 29 more than in 2020. This most recent rise represented the third consecutive increase since 2019.

The national homicide rate increased by 3% to 2.06 homicides per 100,000 population, the highest rate since 2005.

This overall increase in the number of homicides in Canada from 2020 was associated mainly with increases in Ontario (277 homicides; +37) and British Columbia (125 homicides; +25).
Gang homicides have been surging:
"Overall, gang-related homicides continued to account for nearly one-quarter (23%) of all homicides. However, the 2021 gang-related rate was the highest (0.48 per 100,000 population) recorded in Canada since comparable data were first collected in 2005."
In response to the news that the recent Toronto murder suspect was out on release, Toronto Mayor candidate (and former Police Chief) Mark Saunders issued a statement ripping the federal government: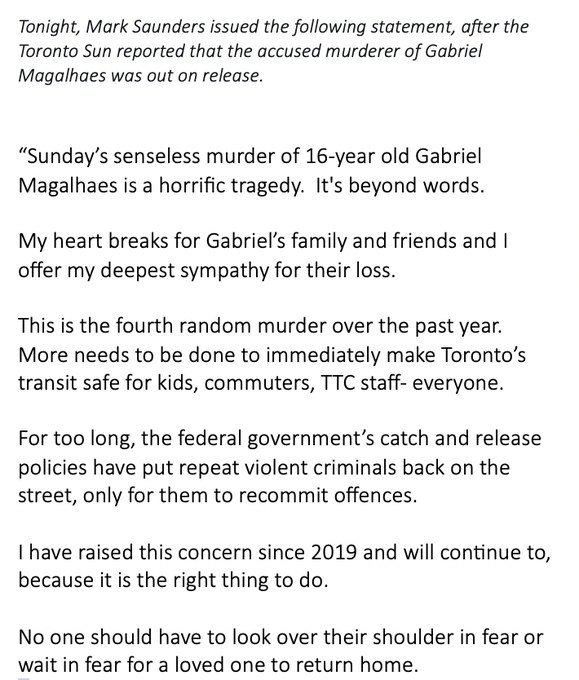 Tonight, Mark Saunders issued the following statement, after the Toronto Sun reported that the accused murderer of Gabriel Magalhaes was out on release:

"For too long, the federal government's catch and release policies have put repeat violent criminals back on the street…" pic.twitter.com/2wrmnyphZr

— Mark Saunders (@marksaunders_TO) March 28, 2023
A simple way to turn things around
To reduce crime, all we need to do is reject Liberal soft-on-crime policies and return to common-sense.
Build more mental institutions and keep people with severe mental illness away from the general public.
Throw more people in jail, and keep them there for a longer period of time.
Increase police budgets.
Provide more support for treatment – rather than giving out drugs – so addicts can get clean.
Stop wasting time and money going after law-abiding gun owners and refocus efforts towards cracking down on gang crime.
Start talking about bringing back the death penalty for the worst of the worst to shift the debate on crime in a tougher and more realistic direction.
This wouldn't solve everything, but it would be a vast improvement over the pathetically weak policies of the Trudeau Liberals that are putting Canadians at more and more risk and causing our cities to become increasingly crime-infested.
Spencer Fernando
***
Canadian democracy is facing unprecedent threats, and we need to speak out and stand up for our country. If you want to support my writing, you are encourage to contribute through PayPal or directly through Stripe below:
PayPal

---
---
[widget id="top-posts-5"]